ARTIST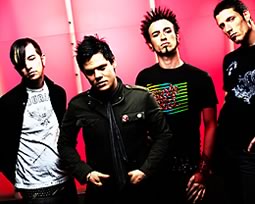 THE VANISHED
Kevin Kirkwood -Vocals
Dallas Perry - Guitar
Justin Young - Bass
Phil Helms - Drums
CONTACTS
LABEL CONTACT
Tami Thomsen
Kirtland Records
3100 Main St. Suite 347
Dallas, TX 75226
(214) 824-7700
PRESS KIT
Band Photo { .PRINT } { .WEB }
Album Cover Art { .PRINT } { .WEB }
Bio { .PDF }
PRODUCTION
Stage Plot { .GIF }
VIDEO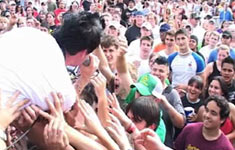 Favorite Scar
BIO
A fiery passion for melody, a brotherhood rooted in rock 'n' roll, and a cynical silver lining form the foundation for the dark pop sound of The Vanished. Its members' musical influences, spanning both genres and decades, coalesce with modern sonic innovations to define the Dallas, Texas based quartet's signature brand of rock. The lead single 'Favorite Scar' from the band's debut self-titled release has ignited alternative station Clear Channel's 102.1 The Edge and promises continued success for The Vanished.
Front man Kevin Kirkwood and guitarist Dallas Perry began their musical trek together in the late nineties with the band Seven Channels (Palm Pictures), releasing a self-titled album in 2001 that sold 50,000 copies. After nine months of national touring, Kirkwood and Perry returned home and disbanded the group, seeking to dig further into their musical roots. Their quest struck a chord with two longtime friends: bassist Justin Young and drummer Phil Helms. Starting anew as The Vanished in September 2002, the band recorded a six-song EP during the summer of 2003 with producer Skidd Mills (Spacehog, Hole) at 747 Studios in Memphis, TN. Released that October, the EP elicited a public response so overwhelming that the band returned to the studio only months later to complete a full-length album.
The Vanished's self-titled debut LP plays like a memoir, with each song leaving a vulnerable, bittersweet aftertaste. The album's first single, 'Favorite Scar', has become Dallas radio's energetic anthem, boasting allegiance to a past love with guitar rock roots set off by highlights of sitar, harpsichord and piano. During its ten-month tenure on the station's playlist, the song climbed it's way to #1, and has remained in the top ten for several months. Recently exceeding one thousand spins on the station, 'Favorite Scar' is now one of KDGE's most played songs in the last year, and earned the band a coveted main stage slot at the station's 'Edgefest 13' alongside notables Evanescence, Seether, Lit, Breaking Benjamin, Finger Eleven, and Blue October.
Yet 'Favorite Scar' offers merely a glimpse of the album's ten unique songs, each with a story ambitious enough to rival for standout song of the record. Nowhere is this more evident than in the haunting composition 'Soap (Waste Another Day)', it's longing plea intensified by guest vocals from Chauntelle DuPree (Eisley). However, much like the members of The Vanished, the songs create a kinship, each complimenting the other with its own distinct significance.
Following the January 13, 2004 release date, The Vanished continue to promote their self-titled debut album with a series of events and appearances, including performances at SXSW 2004, inclusion in the Buzz-Oven Vol. 11 Compilation CD, and recent adds to radio stations in Houston (KTBZ), Oklahoma City (KATT) and El Paso (KHRO). Updates are available at www.thevanished.com.
RELEASES
CD TRACK LISTING
1. Anesthesia Winter
2. Wake Up
3. Favorite Scar
4. Latchkey Princess
5. The Only Thing
6. Anna's Leech
7. Soap (Waste Another Day)
8. Gospel Machine Gun
9. Kerosene
10. The Anatomy of Desperation
* Plus enhanced video content
CATALOG INFO
Album Title: The Vanished - Favorite Scar
Label: Kirtland Records
Catalog Number: KR-23
Release Date:January 11, 2005
Format: CD
Type: Full