ARTIST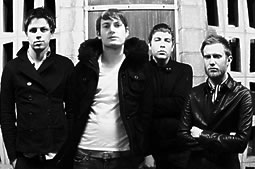 THE HOURLY RADIO
Aaron Closson - vocals, guitarist
Ryan Short - guitar
Adam Vanderkolk - drums
Tim Jansen - bass
CONTACTS
BOOKING
US: Nikki Wheeler, UNITED TALENT
UK: Steve Zapp, ITB
MANAGEMENT
Regan Meador
email
LABEL CONTACT
Tami Thomsen
Kirtland Records
3100 Main St. Suite 347
Dallas, TX 75226
(214) 824-7700
PRESS KIT
Band Photo { .PRINT } { .WEB }
Album Cover Art { .PRINT } { .WEB }
Bio { .PDF }
PRODUCTION
Stage Plot { .PDF }
VIDEO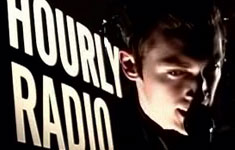 Fear of Standing Upright
BIO
The early success of The Hourly Radio can only be attributed to a clear, articulate sense of direction and purpose. Neither of the bands founding members, guitarist Ryan Short and vocalist Aaron Closson, site their musical abilities among the reasons the band has captured so much attention. In fact, when the two met and began writing songs they had just one electric guitar (but no amp) and neither had any previous musical training or experience. All they had was a common sense of direction and a clear idea of what they didn't want to sound like. What some may call naive or simply blind ambition Closson and Short forged on with complete confidence. From the inception of the band things have moved very quickly and these early limitations never proved an obstacle.
After just a few short months they managed to borrow the requisite gear from friends and recruited the rest of the line up including one of Short's old high school friends Adam Vanderkolk on drums and Tim Jansen on bass. Like many young bands they weren't good enough to copy other bands and this proved to be a blessing as they were able to develop their sound and approach songwriting organically eliminating the chances of the band sounding routine.
This unique sound comes from a driving, pulsing and often frantic rhythm section layered with thoughtful, textured guitar work, where the two guitars seamlessly weave together creating the perfect marriage of melody and atmosphere. Closson's soaring vocals tie everything together and set The Hourly Radio's sound apart from anyone.
In January of 2005 the band self-released Lure of the Underground a six song EP. The EP release show was held before a sold-out hometown crowd and became one of the most talked about and blogged about shows Dallas had seen in sometime. Word of the band's intense live performances soon spread across the Internet creating quite a buzz. Live, the bands songs come to life with amazing intensity, showcasing both the bands appealing immediacy and depth.
After the release of their EP the band hit the road bringing their intense live show to audiences outside of their hometown. These included performances at SXSW, dates with Clap Your Hands Say Yeah and touring as main support with stellastarr* on a leg of their recent US tour. In the winter of 2005 the band signed to indie label Kirtland Records and headed into the studio to record their full-length debut, which is set for release later this year.
2006 is already proving to be a massive year for The Hourly Radio as the band returned from a sold out UK tour supporting stellastarr*, played several SXSW shows, New York City's Bowery Ballroom and are heading out this summer on a nationwide tour. They have just released a limited edition double A-side 7" featuring the tracks "Deaf Ears" + "Crime Does Pay" which is available for download on iTunes and will release their debut full length, HISTORY WILL NEVER HOLD ME, on the internet June 20th and in stores September 5th.
VIDEOS

The Hourly Radio YouTube Channel
PHOTOS

CD release at the Gypsy Tea Room
Photos by Lauren Voneper.
RELEASES
TRACK LISTING
01. Gun In Hand - Single Version
02. Deaf Ears - Shiny Toy Guns Club Mix
03. He Said She Said - Piano Belly Remix
04. Closer - Pipes Bros Remix
05. Crime Does Pay - Dance Robots, Dance! Remix
06. Crime Does Pay - Will Eastman (Blisspop Remix)
07. Crime Does Pay - Terrorist Chic's Deeper Mix
08. Crime Does Pay - Renaissance Remix
09. Not A Victim - Gemini Remix
CATALOG INFO
Title: Gun In Hand
Label: Kirtland Records
Catalog Number: KR-38
Release Date: Nov. 1, 2007
Format: CD
Type: EP
TRACK LISTING
1. Travelsigns
2. He Said / She Said
3. Crime Does Pay
4. Please Forget
5. Deaf Ears
6. Closer
7. Not a Victim
8. Means to an End
9. Stealing Off
10. Fear of Standing Upright
11. First Love is Forever
CATALOG INFO
Title: History Will Never Hold Me
Label: Kirtland Records
Catalog Number: KR-31
Release Date: Sept. 5, 2006
Format: CD
Type: Full

Download @ iTunes
TRACK LISTING
1. Deaf Ears
2. Crime Does Pay
CATALOG INFO
Title: Deaf Ears 7" single
Label: Kirtland Records
Catalog Number: KR-30
Release Date: March 1, 2006
Format: Vinyl
Type: Single
CD TRACK LISTING
1. First Love is Forever
2. Fear of Standing Upright
3. Lost + Found
4. Stealing Off
5. On and On
6. Travelsigns
CATALOG INFO
Album Title: lure of the underground
Label: Kirtland Records
Catalog Number: KR-24
Release Date: January 11, 2005
Format: CD
Type: EP